Today I want to talk about internet accountability.
When I was a little girl, about 9 years old, I was staying at a sleepover at a friend's house. The friend belonged to a good family. Yet while there, she showed me the stack of porn magazines of her dad's that were back there in that shed. I found the pictures fascinating (and hard to get out of my mind).
Yet back then it was hard to see porn unless someone actually went to a store and bought it. So it was relatively easy to avoid. You had to make the decision to get in your car, drive to the store, ask for the magazine, and fork over the money. At any one of those points you could have changed your mind. It wasn't such a temptation because it wasn't easily accessible.
Today the most common emails I get from women are from those who have caught their husbands using porn, or soliciting women for online sex (which only happens after they've already indulged in lots of porn). These women are devastated, and they don't know what to do.
One recent study found that 86% of Christian men will seek out porn if they know they won't get caught. We as women need to recognize what a HUGE temptation this is to men (and to many women as well).
And what about our kids? When they're starting to get sexual feelings, it's asking an awful lot of them to refrain from checking things out on the internet.
Do we understand how huge a problem porn is? I don't think we do, or we would take more steps to stop it. Porn use is not all caused by women withholding sex in marriage; porn is a separate temptation, and can happen even in marriages where she wants sex very much (and, in fact, in many marriages the wife wants sex, but the husband doesn't because he's getting sexual release elsewhere). Porn use also often predates marriage, and many men find it difficult to stop.
And now women are increasingly using it, too, thinking that porn is somehow empowering our sex drives.
Porn can make it difficult for you to become aroused by your spouse, since your arousal is now focused on media, not relationship.
Porn makes sex into something that is purely physical, not something that is intimate. Then it becomes very difficult to experience sex as intimate.
Porn makes fantasy during sex necessary to "complete the deed", since you can't focus on your spouse. Sex becomes selfish.
For young people, porn sets them up to entirely unrealistic expectations and unhealthy arousal patterns.
Porn will not stop just because we want it to.
Studies have found that porn is even more addictive than crack. It triggers chemical reactions in the brain that are intense and hard to resist. Just because someone wants to stop does not mean that they easily can.
In other addictions, the only thing that has consistently worked is accountability. We need others to help us; it's not a matter of just "praying harder" or "believing more". It's a matter of being there for each other.
Porn is too easily accessible, and too easy to access anonymously, to think that teenagers and adults will always be able to resist temptation, even if they have not used porn in the past.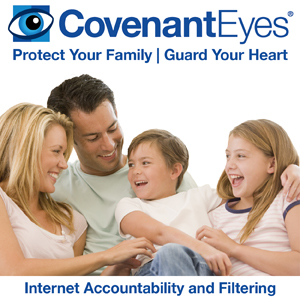 Stop Temptation Before It Starts with Covenant Eyes
You install the program, and then someone you trust receives a report of all the websites you visit. Voila! Temptation gone.

Covenant Eyes Internet Accountability tracks every site you visit, rates each one for its content using six age-based ratings, (such as T for Teen or M for Mature) and delivers a regular report to the friend you choose.
The best part about this? You do not have to be your husband's accountability partner! If he slips up, he knows he'll be talking to another guy about it. But you can let it go and trust that this guy will follow up so that you don't have to.
It's not healthy to serve as his accountability partner, anyway, so this way someone who doesn't even live in the same house can still help your husband avoid temptation.
But you can make sure that YOU avoid temptation, too! And you can watch what your kids are watching as well. Don't assume that just because you have daughters, not sons, that this won't be a problem. The fastest growing demographic for viewing porn right now are teenage girls. We all need accountability–even females.
Features
Customizable reports
The easy-to-read reports can be customized so your accountability partner isn't overwhelmed having to scroll through mountains of data. It can report only when you visit sites ranked Highly Mature, for instance.
Covenant Eyes also rates and reports web searches, such those done in Google, Bing, and other search engines, and keeps track of YouTube videos (and other videos) watched, too.
Mobile accountability
Covenant Eyes can also be installed on iPads, iPhones, iPods (great for teens!), and even Android devices. And these apps are free when you subscribe to Internet Accountability on your computer. Learn more about Accountability for mobile devices.
Optional filtering
For $1.50 more, add Internet filtering to your Windows computers for added protection.
Try it today for one month free!
Covenant Eyes Accountability starts at $8.99/month, but Covenant Eyes is offering it to readers of To Love, Honor and Vacuum free for the first 30 days when you sign up using the promocode tlhv.
Learn more about Covenant Eyes' pricing.
Seriously, this isn't something we should just let be. I've heard people say things like, "you have to trust people. And everyone needs to learn to withstand temptation." Or "one day your kids will move out and they'll have to stand on their own two feet, so don't shelter them too much now." I do understand that line of thinking. But we wouldn't lead a teenage boy into a strip club and say, "remember, you're only here for the chicken wings. Just don't look at anything." I think we forget how strong a temptation this can honestly be. And if there's a tool that will help people avoid temptation–when the ramifications of not doing so are so great–why would you not take it?
Talk to your husband about this. Talk to your kids about this. Maybe it's time ALL of you got accountable. Not just the men, but we women, too. I think it's a great tool, and as a wife and the mother of teenagers, I endorse it wholeheartedly.
I get so many heartbreaking emails, and I want the problem to stop. I think this is one tool we have in our arsenal, and I hope that many of you will take me up on it!
Now, what do you have to share with us today about marriage? Link up a marriage post in the linky below, and be sure to share the link back here so other people can read great marriage posts, too. And you can copy my button code from the sidebar!