This New Year's I'm making a new resolution that I hope you will all join me with: memorizing Bible verses.
I find that memorizing Scripture myself, and memorizing as a family, really helps one's spiritual life. There's something special about knowing where a Bible verse can be found, or being able to say it to yourself when you're feeling down.
The problem with memorizing Bible verses is that if you're not consistent, you won't remember the verse later.
Or you may work on a verse hard for a week, but it doesn't stick.
So if you're wondering how to memorize Bible verses, I've recently worked on a new Bible verse memory system that has worked so well for us. We use it in our homeschooling with Latin vocabulary words, but it can work for memorizing anything, including Bible verses.
Here's what you do:
Take some cue cards and write on each one what you're trying to memorize–such as the Bible verse for the day/week. The week you're learning the verse, you go over it everyday. The next week, you're done with it and you're onto another verse.
But how can you be sure that you remember last week's Scripture verse?
This is where the method comes in. Write the first week's Bible verse on a cue card, and put in a pile with an elastic on it with the number "1" on it. This is the pile you'll work through everyday.
On the first week you'll review that verse everyday, but after that initial week, when you look at the verse, if you it right, you move it up to pile 2.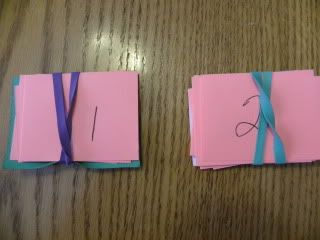 The next day you do both piles 1 (with the current week's verse) & pile 2 (with older verses you are still reviewing). Any verses that are correct get moved up a pile, so that you now should have pile 1, pile 2, and pile 3.
If you get a verse wrong, though, it goes down a pile!
So if you're doing your current week's verse (pile 1), and some verses from the last few weeks (pile 2), and you get a verse wrong that's in pile 2, it now gets moved back down to pile 1 to work on everyday for a week again.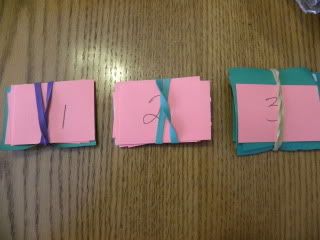 Everyday you do piles 1 & 2. Pile 3 you do every Friday. Pile 4 you do once a month. And Pile 5 you do every other month. So if you're memorizing one Bible verse a week, for instance, you'll likely review it everyday for a while, then every week, and then next month, and then it will be gone.
It works well because you can add verses to pile 1 at any time. So if the verse from last week is still moving through piles 1-3, that's okay because you can just add more verses to pile 1 and it doesn't really matter. You can have as many there as you need to.
The main thing is that you review each verse at least five times before you get rid of it.
Here, then, is what a sample schedule would look like:
Everyday: Go over new verse AND
Everyday: Review verses from piles 1 & 2. Remember if you get a verse correct, move it up a pile! AND
Every Friday: Review pile 3. AND
Second Wednesday of the month: Review pile 4. AND
Every 31st of a month: Review pile 5. (Why the 31st? It's easy to remember, and it means you'll hit pile 5 about every other month. You'll hit it twice in a row July-August and December-January, but you probably need the practice anyway 🙂 ).

If you ever get a verse wrong, it goes back to pile 1!

This way you're sure that once you're finished with a Bible verse, you really know it.
If you want to memorize Bible verses as a family, the best time is right after dinner. Even if you can't do it every night, try for as many nights as possible each week. And if you use this method, you can be sure that you won't forget any! You'll go through each verse at least 5 times, and you'll space it out!
But what Bible verses should you memorize? I have a list of the 50 best Bible verses to start memorizing here!
I hope that helps you get your spiritual life off to a great start this year!